StaffingCorner VMS - Standard Features
One Powerful Full-Service VMS.
Requirement Management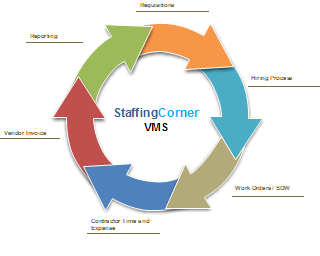 Manage Requisitions, Approval Workflow and Requisition Distribution.
Interview Management
Schedule and Manage Multiple Rounds of Interviews
Vendor Submittal
Online Vendor Resume Submittal.
Submittal History and Ratings
Track Hiring History, Candidate Ratings.
Vendor Management and Diversity
Extensive Vendor Repository, Vendor Document Management, Diversity Management, Spend Reporting, Multi-level Preferred Vendor List.
Work Order Management
Work Order Management and Approval Workflow
Time and Expense Management
Contractor Time Capture and Approval Workflow. Multiple Timesheet Templates.
Vendor eInvoicing
Vendor Invoice Generation based on Approved Contractor Time and Expenses.
User Authorization & Approval Rights
User Authorization and Approval Right Management. Role Based Authorization and Approval.
Messaging and Notifications
User notifications at various steps via e-mail or internal messages.
Reporting, Analytics and Dashboards
A robust reporting system and analytics to measure and evaluate performance including summaries, graphs, details and dashboards.